The Russian Black & the Russian White In Britain
(updated November 2011)
The Russian Black and the Russian White now in Britain are descended from the Russian line developed by Mrs S Frances McLeod (Arctic) from her Arctic Chumvi born in 1961, stated by her to be a white female kitten from a Russian boat and given to her by a friend. The GCCF registered Chumvi as AOV Foreign Type Breed No 26.

At that time, which is around fifty years ago, the Russian Blue (then Breed No 16A) was stated to be going through a bad patch with out-crossing having caused havoc with the Russian coat. As Chumvi had an excellent coat, the well-respected breeder and judge Mrs Grace Pond suggested mating Chumvi to a Russian Blue stud. Mrs McLeod followed a breeding programme with the assistance of Miss F H Laugher (Jennymay), mating to a GCCF registered Russian Blue stud, and Chumvi's first two litters comprised white or blue kittens. However, the third litter produced a black kitten. This showed that Chumvi was in fact masking black under her white coat.


Mrs McLeod continued breeding and showing Russian Blues, Blacks or Whites in the UK for many years and eventually went to Australia where she continued breeding Russian cats. In the meantime, other Russian breeders continued the white or black lines.

A black kitten, Arctic Lascatsya was from a Russian Blue mother Arctic Mishura and sired by a Russian White stud masking black, Arctic Snowthistle. She was bred on by Mrs Joan Lund (Lavengro) and her progeny included a Russian Black female named Lavengro Gypsy Rose born around 1983.





Mr & Mrs Frank Smith (Jofran) bred on from

Gypsy Rose

and exported a Russian Black female

Jofran Emerald Eye

to Europe where she was mated to

Sini Ivan

who had also been imported from the UK. A son,

European Champion Black Shadow van Loth-Lorien

, was mated to a Russian Blue queen owned by Ingrid Nuyten (d'Affranchi) called

Veruschka van Marit Iris

(whose sire was

European Champion Tomanka Leonov

also from the UK). That mating produced a Russian Black female

Tchornia Ludmila d'Affranchi

.

Ingrid Nuyten had imported from Australia a Russian White male kitten, Yaralin Sjtsjoekin born in 1993, from a well-known breeder there, Mrs Hilda Blackmore (Yaralin). Sjtsjoekin was shown in Holland and achieved the title of Champion and he was mated amongst other queens to Ingrid's Russian Black female, Tchornia Ludmila d'Affranchi.


Sjtsjoekin

was from a Russian White to Russian Blue breeding programme started in Australia in 1971 by Mr Dick & Mrs Mavis Jones (Myemgay) from an imported white cat from Siberia. Again, a black had appeared in the third generation and that line is still being bred on in Australia and the US. However, this particular Russian White line was mated only to Russian Blues and in 1975 achieved Championship Status. It has produced several Gold Double Grand Champion Russian Blues and Russian Whites in Australia. That line has re-introduced the Russian White now in Britain as the original whites here were all neutered some years ago, although some blacks from the same lines were exported to Europe.





Ch Yaralin Sjtsjoekin
The next three generations in Holland from that

Sjtsjoekin x Tchornia

mating produced Russian White females, masking black.

GIC Bjella Dushka d'Affranchi

had joined Evelien Bronsveld (Chatuliem Russitiem's), who brought her cats to Scotland, including

Chatuliem Russitiem's Yentle

born in 2003, who had produced a Russian Black kitten in the Netherlands, showing she was genetically black under her white coat.



After Chatuliem Russitiem's Yentle joined Mrs Jennifer Sedgwick (Catwo) in England, Yentle was mated to Russian Blue European Champion Ursus Blue-bis (bred in Poland) and in November 2007 produced six kittens, one Russian Blue, four Russian White and one Russian Black, all able to be registered and shown with the GCCF with the Breed Nos of 16a, 16a 14c and 16a 15.

| | |
| --- | --- |
| First Litter born in 2007 - 4 Russian Whites, 1 Russian Black and 1 Russian Blue | photo by Photocat |
Yentle's second litter in 2008 to a Russian Blue stud born in Britain, Grand Champion Lubimiyeh Vaska, produced eight kittens, 7 Russian Whites and 1 Russian Black. As with the first litter, all the kittens were hearing tested, but this time all the whites were also DNA tested, and it is interesting that 5 of the 7 whites were shown to be masking black.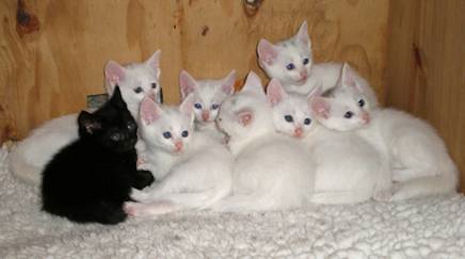 Second Litter of 7 Russian Whites and 1 Russian Black 2008

In 2009 there were 7 litters and in 2010 a further 11 litters of kittens all descended from the imported Russian White queen
Yentle
. Up to November 2011, seven UK born Russian Blue studs and twelve UK born Russian Blue queens have been used. 31 litters have been born, which totals over 130 blue, black or white kittens born from these lines since 2007. More than a dozen breeders throughout England, Wales, Scotland and Ireland are now involved with continuing the breeding of the Russian Blue, the Russian Black and the Russian White.
The Russian Blues from these matings were included on the GCCF Supplementary Register and could be shown at Championship level. Several of these Blues have been shown and have been awarded CCs. The Russian Blacks and Russian Whites have been recorded on the Experimental Register and shown in Assessment Classes. From 1st June 2011, the Assessment Classes became competitive, the cats being judged and awarded a Merit Certificate if worthy (as previously) and also be placed against each other with a Best of Breed awarded (if available). The winner could also be considered for Best of Variety/Best In Show.



The first cat to achieve four Qualifying Merits in Britain was a Russian Black female from the first litter bred by Mrs Jennifer Sedgwick,

Catwo Kira

, owned by Mrs Judith Noble (Larksong Russians).

Her success was shortly followed by a Russian White male, Catwo Dimitri, from the second litter, and now living with Mrs Catherine Kaye (Sithee Russians).



Catwo Dimitri

Catwo Biaty Pantera
Further cats to qualify with four Merits have been Catherine Kaye's

Catwo Biaty Pantera

and

Catwo Cairnicatski

owned by Wendi Johnson, both litter sisters to

Dimitri

. That was a very special litter of 8 Russians!

Catwo Cairnicatski

Adniosh Catwo-Crystal
The next cat to qualify was also a Russian White female bred by Ms Bev Pursglove called

Adniosh Catwo-Crystal

, now living with Stephanie Eborall (Warwick Russians), who had previously bred Russian Blue and Russian White cats in South Africa. The sixth qualifying cat was a Russian Black female bred by Catherine Kaye and sired by her Dimitri. Andrea Cherry (Brightlite Russians) quickly gained five merits with her

Sithee Madam Belladonna

.

Sithee Madam Belladonna

Elenita Buskin Rascal

So, two Blacks and four Whites, with a further Russian Black male, Elenita Buskin Rascal, bred and owned by Sandra Hipkin (Elenita Russians) obtaining his fourth qualifying merit in October 2011. A Russian White, Cairnicats White Royal, bred in the UK by Wendi Johnson and now owned by Beata Raszka (Colinsgarden Cattery) in the Republic of Ireland , also obtained five GCCFI Merits by the end of October 2011 and sired his first litter.


Cairnicats White Royal
Several other Russian Black or Russian White kittens/cats are still competing for Merits as Provisional classes are not available until April 2012. These include Serennol Night Star, a beautiful Russian Black female, bred and owned by Sarah Williams-Elliss (Serennol Russians). Night Star, who was sired by Sarah's UK IGrCh Serennol Dmitri, was Best Assessment Russian at the last RBBA Show.

Further Blacks are Elenita Melayzia Gipsyrose owned by Jim & Mary Bowdrey, Tocoya Zinoviy bred and owned by Jill Wakefield (Tocovya Russians) and Adelfsh Cosmos bred and owned by Julia Watling. However, Cairnicats Magnus owned by Elaine Littlewood (Milov Russians) is a Russian White male.

At the October 2011 Council Meeting, the RBAC proposal was passed for the Russian Black and the Russian White to progress to Provisional Status and it is understood that as from April 2012 these breeds can compete for Intermediate Certificates and hopefully progress to championship level.


Some breeders are concentrating on Blue / White kittens, whilst others are specialising in Blue / Black. Breeders are listed on the RBBA website.

However, it is delightful to see a litter containing the three colours such as this October 2011 litter bred by Sandra Hipkin (Elenita). These are great-grand kittens of Chatuliem Russitiem's Yentle.



Elenita Litter of 3 colours

The GCCF Standard for the Russian Black states that it is a Russian Blue in all respects except for colour. The coat colour is a dense glossy black to the skin with black nose leather and paw pads.

The coat of the Russian White masks the genetic colour, which here in the UK is blue or black, and which can be checked by a DNA test. The coat must be pure, sparkling white with no hint of discolouration, although a kitten or young adult may temporarily carry small dark patches of blue/black on the head. Before any progeny may be registered from a Russian White sire or dam, this cat must have a certificate of freedom from deafness.

Melva Eccles
November 2011